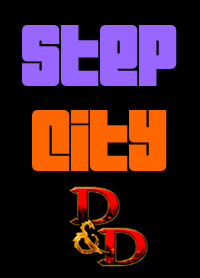 Welcome to the Step City D&D Wiki!Edit
Welcome to the Step City D&D Wiki!
Games are Sundays at 4PM PST/6PM EST
The party is currently in it's 4th adventure, tracking down the Rackshasa.
On this wiki, you can find info about past games, read and share RP logs, upload art to the gallery, and add a page for your character .
Questions? Comments? Drop us a line at Superfunk.StepCity@gmail.com
| | | |
| --- | --- | --- |
| D&D Help | Character Information | Wiki |
| | | |
October 1, 2012 - Step City DnD Wiki created! Hooray~!
Ad blocker interference detected!
Wikia is a free-to-use site that makes money from advertising. We have a modified experience for viewers using ad blockers

Wikia is not accessible if you've made further modifications. Remove the custom ad blocker rule(s) and the page will load as expected.